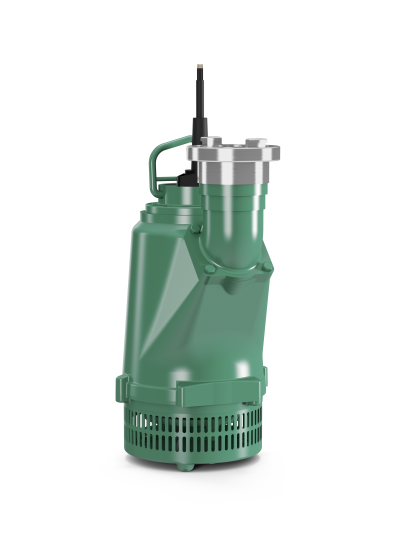 Your advantages
Long service life thanks to robust construction
High operational reliability thanks to continuous duty, also in slurping operation
Easy handling due to connection cable with plug
Easy operation due to the fitted float switch (S version)
Construction
Submersible drainage pump
Equipment/function
Connection cable with plug
S version equipped with a float switch
Oil-cooled motor (up to size 20)
sheath flow cooling (from size 24)
Scope of delivery
Pump with connection cable and plug
S version also with float switch
Pressure port with Storz pipe coupling
Installation and operating instructions
Type key
Example:
Wilo-EMU KS 15x
KS
Submersible drainage pump
15
Size
x
Version

E: Single-phase current motor
ES: Single-phase current motor with float switch
D: Three-phase current motor
DS: Three-phase current motor with float switch
DMS: Three-phase current motor with float switch and switchbox with motor protection switch
E0: Single-phase current motor with bare cable end
D0: Three-phase current motor with bare cable end
GG: Motor housing in cast iron
Ceram: Unit with ceram coating
Ex: with Ex-rated motor
Z: centre pressure port
H: high-pressure impeller
M: medium-pressure impeller
N: low-pressure impeller
Technical data
Mains connection: 1~230 V, 50 Hz or 3~400 V, 50 Hz
Protection class: IP68
Max. immersion depth: 12.5 m
Fluid temperature: 3 … 40 °C
Cable length: 10 m or 20 m
Pressure port: Storz coupling size C to A (depending on type)
Materials
Motor housing: Al or EN-GJL 250 (depending on type)
Pump housing: EN-GJL 250
Impeller: EN-GJL 250
Shaft: 1.4021
Seal:

On motor side: C/Cr or C/ceramic
Fluid side: SiC/SiC

Static gaskets: FPM
Description/construction
Submersible drainage pump as submersible monobloc unit for portable wet well installation.
Hydraulics
The outlet on the pressure side is designed as vertical threaded connection with Storz coupling. Open channel impellers are the impeller type used.
Motor
Up to size 20, single-phase or three-phase current version self-cooling motors are used. The self-cooling motors are oil filled. From size 24, three-phase current version surface-cooled motors with thermal motor monitoring and sheath flow cooling are used.
The Ex-rated units KS … Ex units are equipped with a surface-cooled motor without sheath flow cooling.
All models can be used both immersed and non-immersed, in continuous duty. This also permits slurping operation.
A sealing chamber protects the motor from fluid ingress. The filling fluid used is potentially biodegradable and environmentally safe.
Up to size 20, the connection cable is detachable and the cable is 10 m long. From size 24, the connection cable is permanently connected and the cable is 20 m long. The connection cable is always equipped with a plug. The S version is also equipped with a float switch. The DMS version is equipped with a switchgear which has integrated motor protection.
Seal
The sealing on the fluid side and on the motor side is performed by two bidirectional mechanical seals.